Britten-Norman Islander and Trislander
John Britten and Desmond Norman were initially concerned with developing crop spraying equipment but in the early 1960's they turned their attention to aircraft design. The BN-2 Islander was designed in 1963 and first took to flight in 1965. It was designed to be a low cost alternative to the older DH-89A Dragon Rapide (both Britten and Norman had trained with deHavilland). The Islander design was successful and production commenced on the Isle of Wight in the United Kingdom. In many ways, the Islander could be considered a scaled-down piston powered version of the Twin Otter, it features fixed landing gear and was designed for operation in remote areas. In this respect, the Britten Norman Islander has been a success, in fact, it is the best selling commercial aircraft in Western Europe.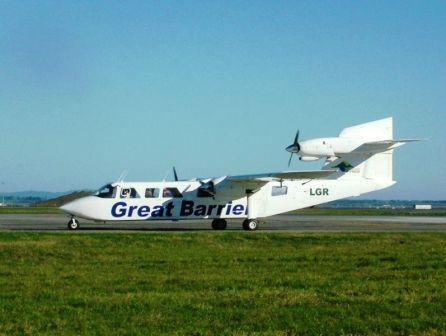 The Islander features two rugged O-540 Lycomings that produce 260 horsepower and seating for up to 11 people (including pilot(s)). The Islander/Trislander are somewhat unique in that there is no isle between seats in their narrow fuselage and because of this, every row of seats (each two across) has its own door. The Trislander seats up to 19, so it has several doors along its fuselage. Allison turboprop engines have been fitted to the Islander and the plane has seen duty in various military roles as the Defender and Maritime Defender. In 1969 an improved Islander, the BN-2A and in 1978 a further improved version, the BN-2B Islander II was introduced.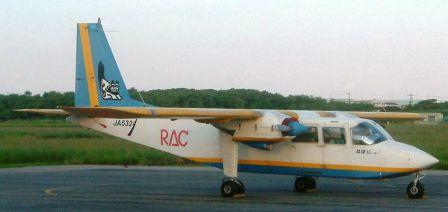 The Trislander was a stretched version of the Islander that first took to the air in 1970 and was made until 1982. Only 73 Trislanders were ordered and it was not nearly as successful a design as its smaller sibling, but Britten Norman intends to reinstate production of this aircraft so, perhaps it will be more successful during its second production run.
In essence, the Trislander was an enlarged Islander with a third Lycoming O-540 engine fitted to the vertical fin making it a very rare three-engine light civilian airplane. The Trislander can seat 19 and it has found sporadic use (given the few numbers made) as a commuter airliner. In the Channel Islands, the Trislander are known as "Joeys" and one Aurigny Air Services Trislander carries the registration G-JOEY.
Watch this Islander landing at the infamously short runway on the Caribbean island of Saint Barth (runway is 2,100 feet long).
Here is another short strip landing – watch as a BN2A Norman Islander lands on a 200 m microlight airstrip in Nelspruit, South Africa.
Watch this BN2 Britten Norman Islander from a cockpit view of a long landing at Hamburg.
The scenery taken from the window of the BN Islander in the next video on the voyage from Anguilla to St. Maarten is just like paradise. There are some nice close-ups of the cockpit as well.
---
---
---
---
Clive from South Africa, who has been flying on and off since 1973, had this to say, "Had a great time in one once, in "co-pilot" seat - hops in out of wind swept coastal strips on the South African Wild coast! It's impressive. Also in Botswana's Okavango Swamp."
Thanks, Clive. We appreciate your input.